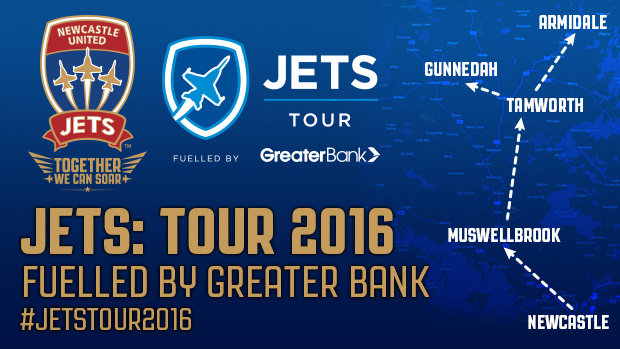 Wednesday 10 August 2016
The first day on tour will see the team stop in Muswellbrook for a 'Jets: Play' clinic at Victoria Park from 4:00pm - 5:30pm. Each Jets: Play clinic can feature up to 200 kids aged between six and 16, and involves direct interaction and engagement with the club's Hyundai A-League players! Please CLICK HERE to register your child for Jets: Play, Muswellbrook.

Thursday 11 August 2016
The second day on tour in 2016 will be a big one in Tamworth! Fans can attend the team's open training session at Scully Park Regional Sporting Precinct from 9:30am in the morning, before meeting the players at a Jets: Play clinic at Gipps Street & Riverside Sporting Complex in the afternoon (4:00pm - 5:30pm). Be one of the first 100 people through the gate at the open training session to receive a free bacon and egg roll thanks to Greater Bank, and CLICK HERE to register your child for Jets: Play, Tamworth. We'll also be squeezing in a visit to Westdale Public School in Tamworth on Day 2, too!

Friday 12 August 2016
After training in the morning on Friday 12 August, Jets players will make school visits to three lucky schools in Tamworth, Armidale, and Gunnedah on Day 3! Get set to meet the Jets Tamworth Public School, The Armidale School, and Gunnedah South Public School!

Saturday 13 August 2016
It's MATCHDAY! #JetsTour2016 will conclude with the Newcastle Jets taking on the club's #F3Derby foes Central Coast Mariners at Scully Park Regional Sporting Precinct. Tickets for the Hyundai A-League pre-season trial match, which will kick-off at Scully Park at 4pm, are available now! CLICK HERE to secure your tickets to the game! Kids tickets are just $5, adults $10 and all grandstand seats are $25. 
Greater Bank are the Major Community Partner of Newcastle United Jets FC. Please
click here
 to find out more about how Greater Bank supports the local community.